Free WebSite
Let us host your Chinchilla website FREE! Learn more

Chinchilla Pedigree & Receipt Book

This book contains 50 Pedigrees and receipt stubs.The pedigree contains places for all of the customers info, The name, color, sex, and DOB for the chinchilla being sold, as well as ancestry going back 3 generations. There is also a place for the Breeders info. The receipt stub includes the date, Buyer name and address, Chinchilla number, sex, color, sire, Dam, DOB, and price of sale. Just cut along the line using a pair of scissors to detach the pedigree.
---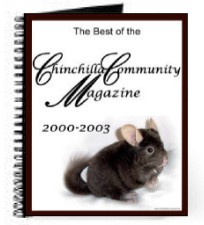 The Best of The Chinchilla Community Magazine

Contains 89 of the best articles from past issues 2000-2003. Click the link above to see the complete Index of the book by subject!
---
Click here to Buy The Chinchilla Breeder's Diary

Please take a moment to view some pages from the Diary:


Size: 8 1/2" x 11"
126 Pages



The Chinchilla Breeder's Diary is a Calendar, Planner, and Record Keeper all in one. It includes:
*a Chinchilla Gestation Chart
*New Births section for recording up to 198 new births (Birth charts now include up to 9 weight records on each chinchilla and a section for name and contact info of the buyer)

*Blank Monthly Calendars for any 12 month year. The blank calendar months allow you to start your planner any month of any year!

*Income and Expense charts for one year

*Address book

*20 page journal for notes.


A Division of The Chinchilla Club